Welcome to our service page for barn demolition and dismantling services in Holland, OH. At Klumm Bros, we have been providing reliable and efficient demolition and dismantling services for over 25 years, and we take pride in being a trusted name in the industry. Our team of experienced professionals is equipped with the latest tools and equipment needed to handle barn demolition and dismantling projects of any size.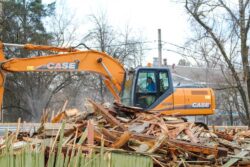 Our barn demolition services
Barn demolition can be a daunting task, especially when it comes to older structures that have weathered the elements for many years. However, our team has the experience and expertise to handle even the most challenging projects with ease. We understand that every barn is unique, and we approach each project with a tailored solution that is specific to your needs.
Our barn demolition services in Holland, OH, include full dismantling of the structure, removal of debris and materials, and proper disposal of materials. We also offer selective demolition services, wherein we can demolish specific sections of the barn while preserving other areas that may hold sentimental or historical value.
Safety is our top priority
Safety is our top priority in every project we undertake, which is why we use the most advanced safety measures and procedures to ensure that our team and your property are protected throughout the process. Our team has undergone extensive training and certification, ensuring that they are equipped with the knowledge and skills necessary to handle any project safely.
Barn dismantling is a highly specialized service that requires a team of experts who have experience in working with wooden structures. Our team has years of experience in dismantling barns, and we know how to carefully dismantle each part of the structure so that it can be used for other purposes. We take great care to preserve the integrity of the wood and ensure that all parts are carefully removed so that they can be re-purposed or recycled.
At Klumm Bros, also we recognize that barn demolition and dismantling can be a significant undertaking, both financially and emotionally. That's why we offer competitive pricing for all of our services, and we work closely with our clients to ensure that they get the best possible value for their investment. We also make sure to keep our clients informed every step of the way, so there are no surprises or hidden costs.
Choosing Our Barn Demolition Services in Holland, OH
So if you're in need of barn demolition and dismantling services in Holland, OH, look no further than Klumm Bros. We have the experience, expertise, and equipment needed to handle any barn demolition or dismantling project. We take pride in delivering reliable, safe, and efficient services to our clients, no matter how big or small the project may be. Contact us today to learn more about our services or to request a quote for your project.