Klumm Bros is your trusted partner for all your demolition and removal needs in Holland, OH, including garage demolition and garage removal services. We understand that every client has unique needs, and we strive to deliver a personalized service that meets your requirements. With years of experience in demolition, we can handle any project, big or small, and deliver exceptional results.
We understand that garage demolition is a complex process that requires expertise, equipment, and safety protocols. Whether you want to remove an old garage that has become an eyesore or make way for a new construction project, we are here to help. Our team of demolition experts will assess your site, provide a detailed plan, and execute the project with precision and timeliness.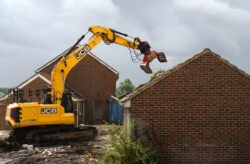 Our Garage Demolition Process
At Klumm Bros, we understand that every demolition project is unique, and we tailor our approach to meet your specific requirements. Our process ensures that your garage demolition project is seamlessly carried out, and all materials are appropriately disposed of. Here are the steps we take:
Site Assessment
Our team will visit your site to evaluate the scope of work required. We will identify any hazards, plan the demolition sequence, and determine the appropriate equipment.
Obtaining Permits
Before we commence work, we ensure that we have the necessary permits and approvals from the local authorities.
Equipment and Material Procurement
Based on the assessment, we will procure the required equipment and materials, such as excavators, bulldozers, and safety gear.
Demolition
We will start the demolition process, which involves disassembling the garage, tearing down the walls, removing the roof, and any other structures. Our team ensures that we follow all safety protocols during the demolition process.
Debris Removal and Disposal
Once the garage is demolished, we will collect all the debris and transport it to a designated landfill or recycling facility. We ensure that all materials are disposed of in an environmentally friendly manner.
Site Clean-up
We conduct a thorough site clean-up to ensure that there are no hazardous materials or debris left behind. We ensure that your site is left in a tidy condition.
Why Choose Klumm Bros in Holland, OH for Your Garage Demolition?
At Klumm Bros, we are committed to delivering exceptional service to our client, and we take pride in our work. Here are some reasons why you should choose us for your garage demolition and removal needs:
Experienced Team
We have a skilled team of demolition experts who have been in the business for many years. They have the expertise, experience, and equipment to deliver quality results.
Safety
We prioritize safety in all our projects and ensure that our team and clients are safe throughout the process. We follow all safety protocols and use the appropriate safety gear when carrying out demolition projects.
Efficiency
We understand that time is of the essence, and we strive to complete all projects within the agreed timeframe. We use the most efficient equipment, and our team works around the clock to ensure that your project is completed on time.
Environmentally Friendly
We are committed to protecting the environment, and we ensure that all materials, including hazardous waste, are disposed of responsibly. We follow all environmental regulations when carrying out our demolition projects.
Competitive Pricing
We provide competitive pricing that offers good value for money to our clients. We provide a detailed estimate of your project, and there are no hidden charges.
Choosing Our Garage Demolition Service in Holland, OH
So if you're looking for garage demolition or removal services in Holland, OH, look no further than Klumm Bros. We are here to help you with all your demolition and removal needs. Contact us today to schedule a consultation and learn how we can help you with your project. We look forward to working with you!