An organized jobsite is also one that's safe and efficient. When it comes to scrap, waste, debris, and rubbish, it's important to make sure everything is well-contained and ready for disposal. To help keep your jobsite safe, organized, and ready for cleanup, Klumm Bros. provides roll-off dumpster services in Toledo, OH.
We rent dumpsters for a variety of projects in varying lengths of time, depending on your needs. And, when you're done, we'll come retrieve your dumpster and take care of disposal. It's that easy!
Great for Any Project
Junk hauling in Toledo, OH, is a simple solution to debris management for a wide range of different projects. From residential remodeling to commercial cleanouts, to remediation projects and more, dumpsters are essential. Regardless of what you're up against or the level of debris involved, Klumm Bros. has a dumpster rental suitable for you.
Disaster cleanups
Debris management
New construction projects
Remodeling projects
Rental cleanouts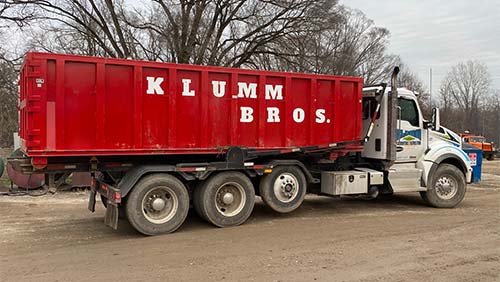 Rent on Your Timeline
Our roll off dumpsters in Toledo, OH, are available with flexible rental terms, giving you the ability to rent a dumpster stress-free for as long as you may need it. Rental periods typically run 10 to 21 days, but we're happy to work within the scope of your project timeline to figure out an appropriate timeline. Plus, we handle all drop-off and pick-up logistics, so you don't have to worry about anything other than filling up your dumpster.
Rent a Roll Off Dumpster
Need a junk hauling service for your project? Contact Klumm Bros. today at 419-829-3166 and let us know for how long. We'll coordinate a drop-off time and location, as well as pricing and terms based on your timeline. You can also count on us to pick it back up when your project is through!