Welcome to Klumm Bros., your premier provider of pool demolition and removal services. We're a family-owned business that has been in the industry for over 25 years, and our aim is to offer you affordable, reliable, and professional swimming pool removal services in Holland, OH.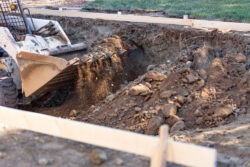 Why Choose Klumm Bros. as Your Pool Removal Provider?
At Klumm Bros., we understand how important it is to have a safe and functional backyard area. If you have an unwanted pool that is taking up precious space, we are here to help. Here are some reasons why we are the best in the game when it comes to pool demolition and removal:
Experience
Our team of professionals has been in the industry for over 25 years, meaning we have encountered a variety of pool types, sizes, and situations. We have the knowledge and expertise to safely and efficiently remove any type of pool that you have.
Affordable
We believe that pool removal does not have to break the bank. That is why we offer affordable pool removal services without cutting corners or compromising quality. We work with you to ensure you get the best possible price for your pool removal project.
Professionalism
We pride ourselves on providing professional services in all aspects of our business. From the initial consultation to the final clean-up, we ensure that every step of the process is carried out with the utmost professionalism. Our team is dedicated to ensuring your satisfaction with our services.
Safety
At Klumm Bros., we take safety seriously. We understand that pool removal can be a hazardous undertaking and that is why we always incorporate safety measures into our work. Our team adheres to strict safety protocols to ensure everyone involved is safe throughout the process.
Our Pool Removal Process
Our pool removal process is designed to be as seamless and straightforward as possible. Here are the steps we take when we undergo our pool removal process:
Consultation
We begin our pool removal process with a consultation to assess your needs and provide our expert recommendations. During this consultation, we will gather information such as the pool type, size, and location, and any other details that are relevant to the project.
Permitting
We work with the local authorities to obtain any necessary permits for the pool removal project. We ensure that all paperwork is filed correctly and follow all regulations to avoid any delays or problems later on.
Draining
Once we have all the permits in place, we will drain the pool. We will then remove any debris, and the pool will be flushed out. Any remaining water will be pumped out by our team.
Demolition
The pool will then be demolished. Our team performs this step with specialized equipment and machinery to ensure a safe and efficient process. Concrete or other materials will be cut up, removed, and hauled away from your property.
Fill-in
After demolition, we will fill in the pool with dirt, gravel, and other materials to ensure a level surface. Our team will take care to compact and grade the area to provide a seamless finish.
Clean-up
After the pool has been filled in, our team will clean up the area, making sure that the site is left as clean as possible. Our goal is to ensure that you are left with a safe, level, and clean space to use for any purpose you desire.
Choosing Our Pool Removal Services in Holland, OH
If you're looking for affordable and professional pool removal services in Holland, OH, look no further than Klumm Bros! We pride ourselves on offering top-notch services that meet your needs and budget. Contact us today to request a consultation and learn more about our pool removal services.