Working with a demolition contractor doesn't have to be a stressful experience. Klumm Bros. capably handles all of your industrial and residential demolishing needs in Holland, Toledo, and Lucas County, OH, from simple removals of concrete to full building destruction. We have licensed Ohio contractors and are dedicated to providing the best service in the region, starting with your estimate and contract all the way through to completion of the job.
Your Contracting Experts
Our demolishing service handles excavation, removal, concrete crushing, trucking, and full building demolition among our other frequently requested services. Klumm Bros.'s advantage comes from over 25 years of experience in the area servicing a wide range of different job sites. We pride ourselves in our ability to create custom service packages at highly affordable rates that are tailored to meet your specific needs.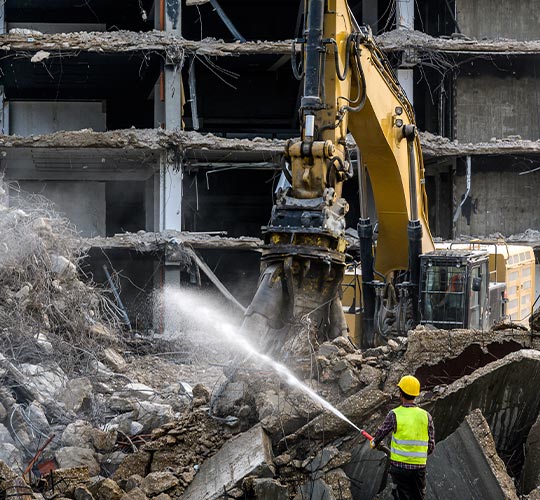 Any Building Size

Our demolition services are available for any type of residence or commercial building. Our crew handles everything from small homes and ancillary residential structures (like sheds or gazebos) up to large industrial facilities, even those that are already partially damaged.

Inspection & Preparation

Inspections prior to demolishing are critical to determining exactly what materials are present that need to be removed, as some are governed by special regulations. In some cases you may need to have specialized environmental experts come in and handle those particular materials. A walk-through lets your contractors know what to expect and provides you with an accurate estimate.

Demolition Done Right

Klumm Bros. is an established and experienced demolishing service that gives you an accurate assessment of the scope and requirements of your project before getting started. Once underway, every aspect of the job is handled with the utmost safety and care.
Industrial & Commercial Demolition

In addition to being fully licensed and insured, Klumm Bros. offers the most competitive rates in the area for the highest quality of demolishing and excavation work. Contact us for all of your commercial and industrial property needs, no matter how big or small the project might be!

Building Destruction in Toledo, Ohio

We can handle anything from small structures to large multi-building properties. Klumm Bros. specializes in finding the safest and most economical way to raze structures while minimizing the environmental impact as much as possible.
Need Demolition?
Demolition and excavation is an operation that is fraught with potential problems and unexpected added expenses. Going with an experienced contractor like Klumm Bros. ensures that the experience is as smooth, safe and affordable as possible with no unpleasant surprises.
Toledo Demolition FAQs
Below are answers to some of the questions that we commonly receive. If you have other questions or are interested in getting an initial estimate, please contact us at (419) 829-3166.
How Much Does a Multi-Family Property Cost to Demo in Toledo?

The main factor in the cost will be the square footage of the property, but the current conditions and the materials that are being removed also factor in. We can provide you with an accurate estimate by doing a walk-through of the property.

How Much Does a Commercial Property Cost to Demo in Toledo?

As one of the more affordable places in the United States to have demolishing done, tending toward the lowest end of the usual expected cost per square foot (which generally ranges from $4 to $8 nationally). As with all other property types it will also depend on the current materials and any special handling requirements.

How Much Does an Industrial Property Cost to Demo in Toledo?

Industrial properties are something of a special case as they are more likely to have materials that are subject to special environmental handling and removal regulations. Please contact us to let us know more about your situation and possibly schedule an on-site visit to get an accurate estimate.

How Do You Ensure Safety When Demolishing Buildings in Toledo?

There are many standard techniques for safely razing a building, which make it possible to safely take down a tall building in a dense urban area. The first and most important factor is finding a partner that is licensed, fully insured and has substantial experience. The exact method varies based on the type of property, but in general large buildings are removed with controlled explosive charges that cause the property to safely collapse in on itself. Smaller buildings are generally pulled down with a combination of mechanical equipment (like cranes and bulldozers) and workers finishing up with hand tools.
Points of Interest & Activities in Toledo, Ohio
Ohio's fourth-largest city is home to one of the biggest ports on the Great Lakes and a number of different colleges and universities. The lake is the biggest single source of recreation, but the area is full of all sorts of other interesting things to do and hidden gems as well
Toledo Museum of Art
The Museum of Art has been open for over 100 years, but has one of the most architecturally modern campuses of any art museum in America. It also has one of the most interesting collections of modern art.
Toledo Zoo
The Toledo Zoo is home to over 10,000 animals from around the world. It is particularly popular for its aquarium, aviary and Natural History Museum.
National Museum of the Great Lakes
There is perhaps no better place for those who love old ships and inland seafaring than the National Museum of the Great Lakes. You can get a taste of what it has to offer ahead of time with the virtual Port of Toledo exhibit and the online interactive tour!
Toledo Botanical Garden
This garden features 60 acres almost entirely covered in a variety of plants to enjoy, but it provides quite a few other reasons to visit as well: regular concerts, festivals and the Artisan Village that showcases the work of local artists.
Glass Pavilion
One of the main points of interest at the Museum of Art is the Glass Pavilion, which celebrates the city's history as a longtime worldwide center of the glass industry. The museum has been one of the country's prime destinations for glass collections since 1913.
Toledo Firefighters Museum
The city's tribute to firefighters throughout America's history has all sorts of fascinating equipment, including some of the first trucks and even horse-drawn wagons.