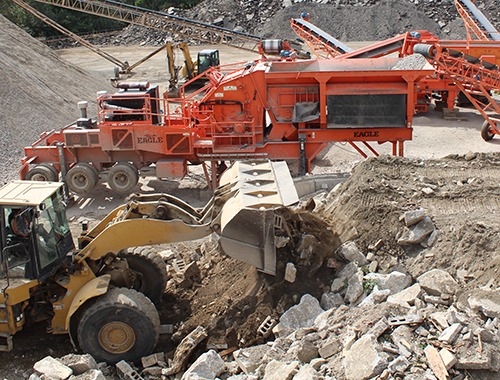 Concrete crushing is a great way to reuse the materials you have available to you after a demolition project. Let Klumm Bros. show you how! We're one of a select few concrete crushing companies in Holland, Toledo, and Lucas County, OH that specializes in material recycling. Let us pulverize and screen your old concrete into useable aggregate, whether on your current jobsite or somewhere else.
Concrete Crushing
Our concrete crushing services in Holland, OH are designed to make quick work of damaged or demolish concrete, so it can be repurposed elsewhere. We arrive on-site with a portable crusher and screener, pulverizing concrete, block and asphalt, and screening it to your specifications. Unlike other companies that may provide this service off-site at their facilities, we work quickly to provide reusable aggregate to your jobsite immediately.
Concrete Recycling
Concrete recycling in Holland, OH is a great way to get the most out of materials that are already on-site. Crushing and reusing concrete aggregate can save you the cost of hauling in new materials and ensure a lower environmental impact for your development—it's great for site striving for LEED building certification!
Klumm Bros. also carries a variety of recycled materials for resale, including topsoil, fill dirt or screened dirt, recycled concrete, (#8's, #6's, 304's, 411's and screenings) and asphalt grindings. Likewise, if you have crushed concrete no longer needed on your site, we'll be happy to take it off your hands for reuse elsewhere. We're one of the few concrete crushing companies that will!
Repurpose Your Concrete
No longer need your concrete? Let us crush it down and recycle it into useable aggregate! We've got the right equipment for the job and can come to you to pulverize concrete on-site. Contact us today at 419-829-3166 for more information about our concrete crushing services, trucking, and roll-off dumpster rentals.