Klumm Bros. is a first choice for Holland, Toledo, and Lucas County, OH businesses that need commercial garbage disposal from a trusted provider. We serve the waste disposal needs of businesses big and small, providing front-load dumpsters and affiliated service in whatever capacity your business needs. With affordable pricing, prompt service and flexible rental options, we handle your commercial waste management needs better than anyone else!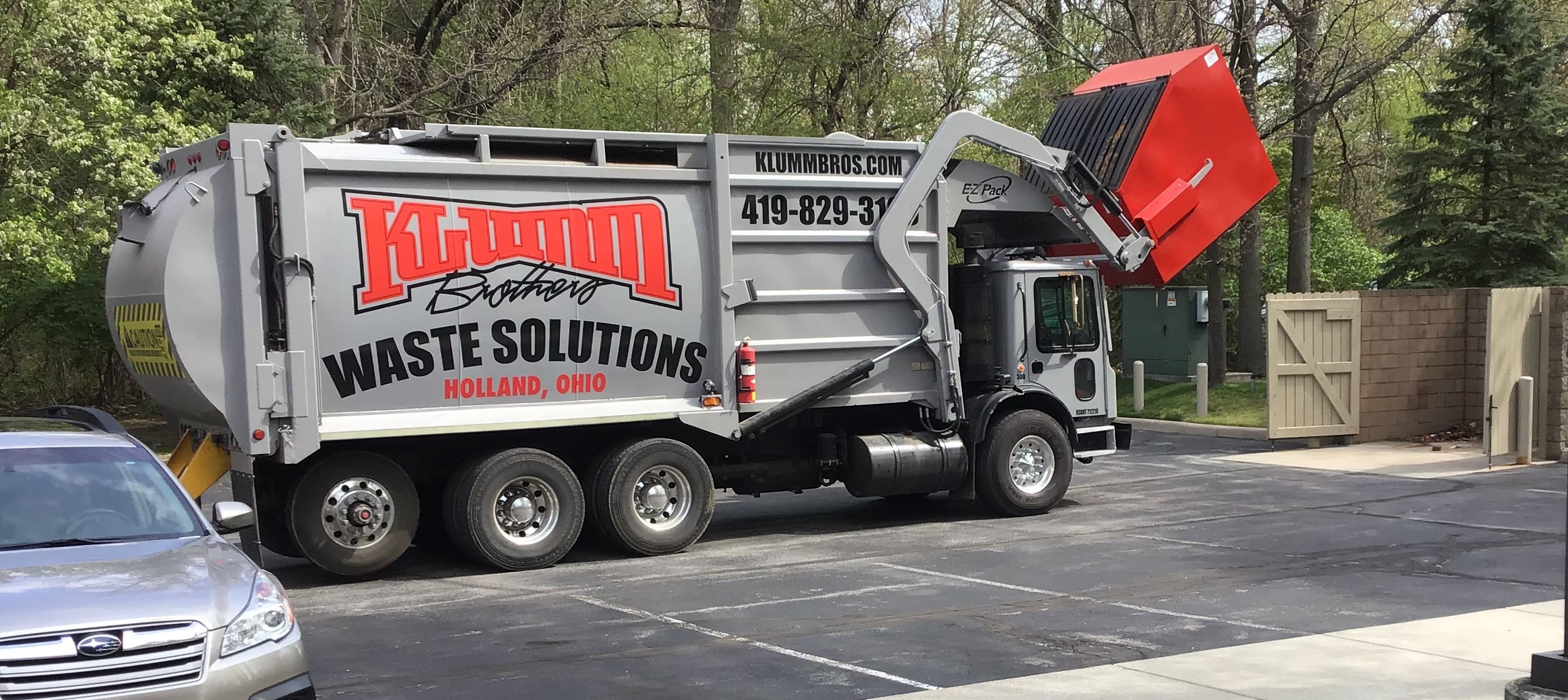 What Size Dumpster do You Need?
Wondering what size of roll-off dumpster rentals you need to efficiently handle your waste? We offer several options and can advise on the right one for you.
2-yard dumpsters are the perfect size for smaller organizations with 20-30 employees. We frequently provide these dumpsters to small restaurants and retailers.
4-yard dumpsters benefit mid-sized organizations with up to 100 employees. These front-load containers are also great for smaller jobsites in Holland, OH.
6-yard dumpsters are fitting for mid-to-large-sized organizations with up to 200 people. Strip malls, apartment complexes and construction sites benefit from this size.
8-yard dumpsters are the largest option we offer, fit for organizations with 500 people or more. They accommodate large amounts of waste with ease!
Industries We Serve
We offer commercial dumpster service for facilities of all types, including apartment complexes, businesses and more. Our customers also include manufacturing businesses, industrial plants, contracting and construction, retail and more. Wherever you have recurring waste disposal needs, you'll find our dumpsters available!
Why Choose us for Commercial Waste Management?
We make commercial waste management simple! From evaluating your needs to providing complete pick-up and drop-off services, we're a true 'set it and forget it' solution that organizations of all types can benefit from.
Courteous, safe drivers
Affordable rates
Professional customer service team
Get Commercial Waste Solutions
Make sure your business' waste management needs are being handled by a company that makes the entire process simple, affordable and reliable. Klumm Bros. is who Holland, OH businesses turn to, and we're proud to have a reputation for providing hassle-free solutions. Call us today at 419-829-3166 to learn more about the solutions we provide for your business. We are also available for residential waste management, so fill out our start service form today!